UX CASE STUDY: PWA & APP


Managing building operations: communicating between campus and campus-goers



CHALLENGE

Design an experience that allows students and management to report and address campus issues.


GOALS

1) Help students report issues quickly and easily

2)Send campus requests directly to facility workers with smart automation and geo-specific requirements

3) Close the feedback loop with status updates
PROJECT OVERVIEW


There's a lack of social accountability for shared spaces. Not yours? Not your problem 👀

Let's be honest, most times - we don't really care if a washroom is dirty unless we personally are deterred from using it. Why is that? I set out to explore a possible solution to this issue.





Timeline

7 Days




Project Type
Design Challenge
RESEARCH


In total, I got 29 responses from my survey, 5 in-person interviews and 1 lengthy email exchange with my university's facility management.


This plus other secondary research informed me of several things:


Students ︎︎︎ Students don't report campus issues

Most students report that it's too much work, inconvenient and assume that someone else will report the issue.


Facilities ︎︎︎ information is triaged before manually assigned to the crew

Crew members also make reports in their daily line of work, and these are reported internally.

Students ︎︎︎ Students are on the go and don't have time to fill out a form or email
Following this user behaviour, we should create an experience on a platform that encourages faster reporting.
Facilities ︎︎︎ Updates are not available to the public
All requests are unable to receive an update status, including email and tweets, unless you have filed a report online.
Aster
, student, 22 years old
PAINPOINT
Aster heads into the washroom, and immediately notices a clogged toilet in the last stall. She knows she should tell someone but she needs to rush to her next class right away.
GOAL
She simply doesn't have the time or she's going to be late for her quiz. Aster wishes for a quick way to report this issue.
Lily
, PhD, 26 years old
PAINPOINT
On the drive to school, she notices a big fallen branch from a tree on the sidewalk. She has to detour around the branch on the road to get to school. This is dangerous.
GOAL
Lily is frustrated but isn't sure what to do. She wishes she could send a picture to the gardening team so they can remove the branch before the road gets busier.
Nate
, Janitor, 43 years old
PAINPOINT
When there are many requests, Nate has to take down notes of all the new information from facilities headquarters. This process is distracting, confusing and takes up a lot of time.
GOAL
Nate wants to see his assigned requests directly, and to be able to put an update on the requests directly from his phone.
IDENTIFYING AND DESIGNING KEY FEATURES

User interviews indicated that most students would not download an app. This indicated to me that building the student portal as a Progressive Web App (PWA) would be the most optimal solution as it is fast to build, easy to maintain, and sends data securely.









STUDENT SUBMISSION ︎︎︎COMMON ISSUES

I've broken it down into 3 most common types of problems related: washrooms, accidents (eg. spill) or general maintenance (eg. broken lightbulb).
STUDENT SUBMISSION ︎︎︎SPECIFIC ISSUES
Specific issues would be things that require specialized treatment or skilled workers to fix, such as an IT maintenance worker to fix a broken projector.
STUDENT SUBMISSION ︎︎︎EMERGENCIES
As shown on the home page, I've appended the appropriate number to call for requests that need immediate attention.








FACILITIES PORTAL ︎︎︎RECEIVING REQUESTS

In this example, requests made for a certain building/zone will fall under an assigned custodian's role.





FACILITIES PORTAL ︎︎︎SPECIALIZED REQUESTS + ASSISTANCE

To help increase the communication between campus crew members, I've designed another view for workers to see progress in their entire building.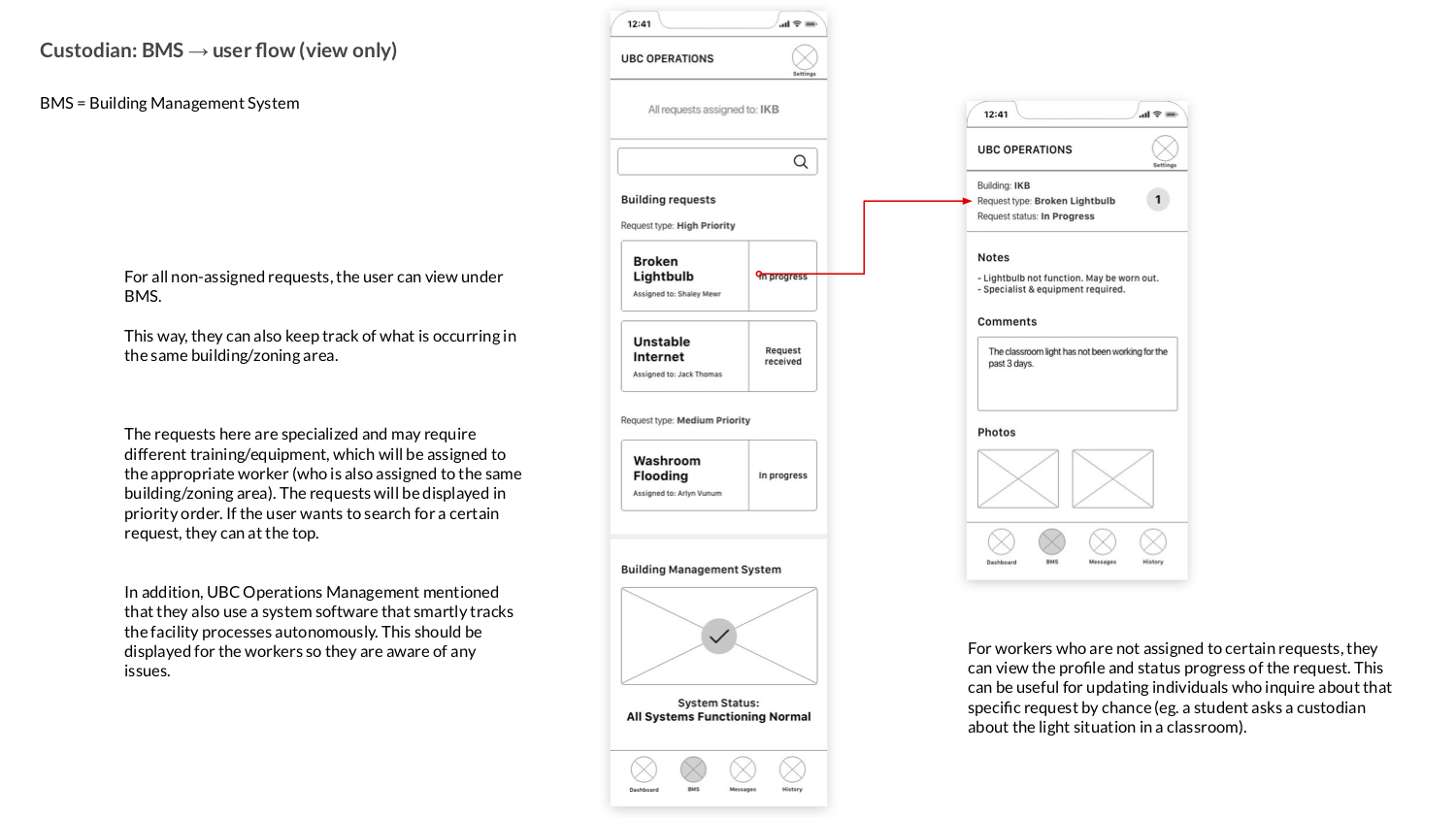 VISUAL MOCKUPS

Following my school colours and brand, I combined that with Material Design to create the UI for the PWA.




FUTURE CONSIDERATIONS

The desktop version will be an expanded form of the PWA. When a student is roaming on the map, it will show other submitted requests around on campus.




WHAT ABOUT STUDENT MOTIVATION?

Most of them commented at the ease of use during my testing with the wireframes, but some also commented that they would still not report campus facility issues due to low social responsibility. Some solutions could be:


Raise awareness 🏫

By sharing about how schools are costly to maintain, we can help students understand how fees are allocated.

Points reward system 🏆

Students can collect points and apply it to as a school credit for food, discounts, textbooks, etc.

Community effort 🎳

Students can work together for a collective school goal. For example, $10K saved = $10K donated to a charity.
CHALLENGES AND WHAT'S NEXT
Plan, plan ahead
With such a short time constraint, it's really difficult to manage it all. Once you chose your prompt, make a rough guide so you can allocate your time the best you can.
Try not to worry/stress/panic

Don't fall into the limited time and resource trap! Just try to follow the design process.
Make a decision and stick with it

It can be really tempting to go wild with all the design possibilities and potential solutions. Work with what you have and go with it!